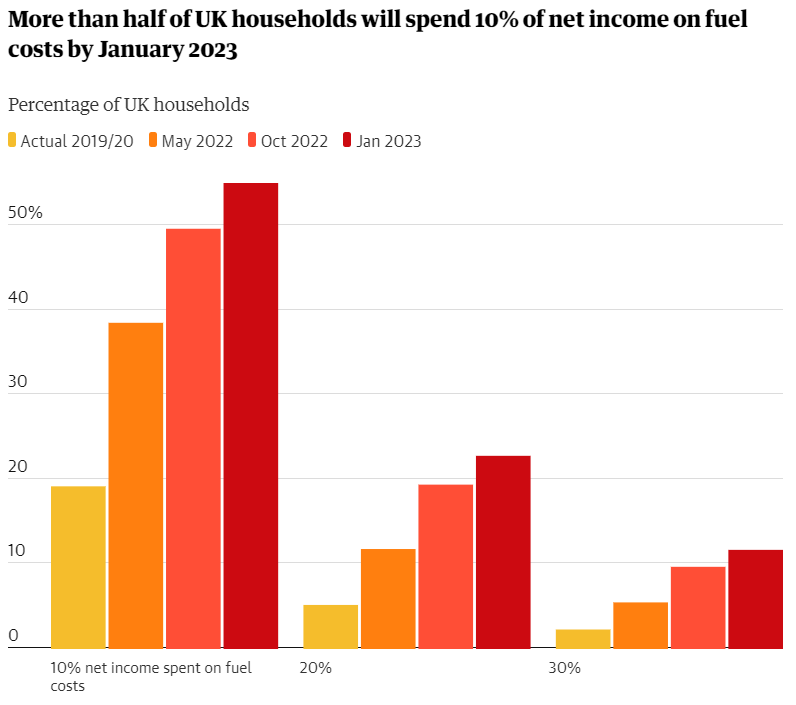 The Observer reports that Keir Starmer and Rachel Reeves "have concluded that big measures are needed" to deal with the cost-of-living disaster. What measures are big enough to make a real difference?
"[We need] an immediate emergency budget tackling the spiralling cost of living, [former prime minister] Gordon Brown has said… With pressure growing for action, senior Labour sources have confirmed to the Observer that the party is preparing to back a key intervention designed to curb the winter crisis, in addition to the removal of VAT on energy bills that it has already supported.
"Labour leader Keir Starmer and Rachel Reeves, the shadow chancellor, have not yet finalised the package, but have concluded that big measures are needed. 'We recognise that this is an emergency situation and that requires a response that matches the moment,' said a senior Labour source."
(This is typical of how the Labour Party functions. Policies are not something to be debated and decided by the membership or in fact any of the leadership bodies of the party – or indeed in any meaningful dialogue with "the public", despite politicians' demagogy about that. They are decided, hinted at, leaked and declared by the party leader, his closest lieutenants and their staff.
(Labour Party policy should be decided by the representatives of members and affiliated unions. How? At Labour Party conference. Conference policy provides a solid basis for party stances. When urgent decisions are required, the National Executive Committee should decide. Only on that basis can Labour become anything like a real, living political party and movement. But all too often the left and the unions fail to fight for this.)
More immediately: it seems extremely likely Starmer and Reeves' idea of what constitutes "big measures" does not in fact match the desperate reality of the moment. What should labour movement and socialist activists demand and, so far as we can, push for Labour to advocate?
• Major increases to benefits, the minimum wage and public-sector pay, plus full-throated and active support for union action to beat inflation and drive up pay in the private sector – including strikes – are the minimum necessary for those in Labour at all serious about tackling this emergency.
• One-off payments to help people through the immediate impact as energy bills leap again in autumn are obviously necessary. We should demand they are significantly more generous. However, what people need is not one off-payments but higher incomes. In terms of immediate policy changes in an emergency budget, that demands:
• Raise the minimum wage significantly. A growing range of labour movement organisations – including Labour Party conference last year – have called for a minimum of £15 an hour. To even maintain its value against inflation, the minimum wage needs to go up from £9.50 to about £10.60 immediately; and it was very low before the price-surge began. We need a major jump, the removal of differential rates and exemptions, and a fast timetable to progress to £15.
• Extra funding to provide at-least-inflation pay rises for all public sector workers, plus flat-sum increases at the bottom to raise the lowest-paid most.
• The value of unemployment benefit in its various forms has steadily declined over decades, from well over 30% in the 1960s to under 15% today. Without that fall the value of Universal Credit at the standard rate would be close to £700 a month, rather than £334.91. The TUC has called for UC to be raised to 80% of the real living wage; when they first raised this in 2020 that was £260 a week, over £1100 a month. Yet Labour has not even committed to restoring the £20 a week the Tories gouged out this year. Without that UC payments too will lose value against inflation. All benefits need significant increases.
Those kinds of measures, which of course will be stigmatised as unrealistic, hard left, etc, are really the bare minimum to defend and start to improve living standards in this crisis.
Additionally, a Labour Party serious about fighting poverty and inequality would announce proposals to:
• Repeal all the laws hindering trade unions and strikes.
• Take the energy companies into public ownership, with a plan to slash bills.
• Launch a major council house building programme.
• Restore all the funding taken from local government.
Contrary to Keir Starmer's absurd comments about there being no "magic money tree", corporate profits and the personal wealth of the rich have soared. Closing tax loopholes and levy windfall taxes is fine, but – again as a bare minimum – we need much higher taxes on business profits and the income and wealth of the rich (combined with tax reductions for workers and the poor), to fund an assault on poverty and slash undemocratic and socially destructive inequality.