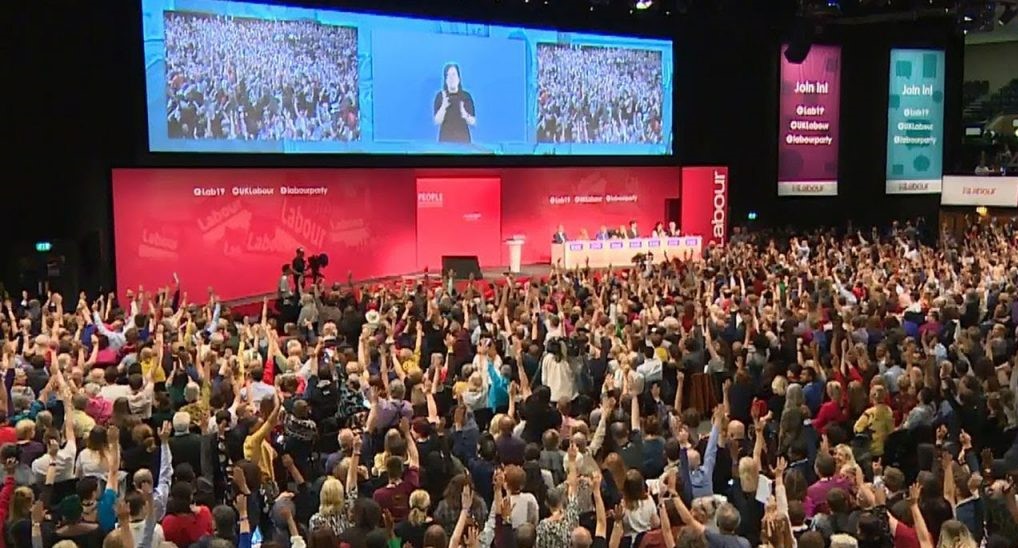 The motions to Labour Party conference haven't been officially released yet, but we've got hold of a copy of the motions document. We'll put up the document when we can. This overview is far from comprehensive, but flags up some key issues and pieces of text. It was written very quickly so apologies for any errors. Feel free to email us at team@momentuminternationalists.org
Many left-wing motions have been ruled out of order, but there is still a lot of important stuff to argue and organise around, at and after the conference.
(There will also be emergency motions, for which the deadline was still open at time of writing this.)
Electoral reform
There are over a hundred motions on proportional representation / electoral reform – the bulk of them the model motion from Labour for a New Democracy. This is a large proportion of CLP submissions, way ahead of the next most popular headings the Conference Arrangements Committee has grouped motions under – the economy and housing – with about twenty each. Labour Left Internationalists supports PR as, all things being equal, more democratic than first-past-the-post; but this glut of motions seems a bit absurd, particularly given the crucial issues on which there is little text (eg anti-strike and anti-protest laws) or really nothing at all (eg Brexit, the police, international issues…) It is surely indicative of the problem that many have come to see electoral reform as a sort of magic bullet for the difficulties facing the left.
Credit to Glasgow Anniesland CLP for submitting a call for abolition of the House of Lords.
Motions ruled out
In a sign of the undemocratic way Labour is going, large number of motions have been ruled out of order. However, quite a few of the demands in motions ruled out have made it through in other motions. However, some of the stronger, sharper formulations have been eliminated, plus of course many CLPs will now be excluded from the compositing of motions, making the bureaucracy's job easier.
Strikes and cost-of-living crisis
Motions ruled out include about a dozen calling on the party to support strikes, on the grounds that this is an "organisational matter".
Two motions supporting strikes, from CWU and TSSA, have been allowed in (it's not so easy to rule out trade union motions). The CWU formulation is fairly strong: "This conference gives its unequivocal support to all UK workers taking strike action for higher pay and in defence of their jobs, terms and conditions". (Better of course if it didn't say UK, but the meaning is not sinister.)
Unison has submitted a motion calling, among many other things, for pay rises at least in line with inflation, a £15 minimum wage, proper sick pay (its second, somewhat vaguer but still useful, motion is about refunding local government).
The motion from Leyton and Wanstead CLP welcomes the TUC's call to raise Universal Credit to 80% of the national living wage, and the one from Northern Ireland straightforwardly supports this demand.
Anti-strike / anti-union laws
The only thing on the threat of new anti-union laws from Liz Truss' government is one brief mention of a few words.
The sharp formulations on repealing all anti-trade union laws in the cost-of-living/strikes motion from Newark and Clacton CLPs – based on the text LLI promoted – have been lost because these motions have been ruled out on the supposed grounds they cover more than one topic. The motion from New Forest East usefully talks about the Thatcherite laws of the 80s, but unfortunately just refers in its resolves to "repealing anti-union legislation". Part of the motion from South Ribble CLP is, whatever the intention, positively harmful in that it commits to "campaign for the repeal of the Trade Union Act 2016 and review all other anti-Trade Union legislation" – a big step back from the demand to repeal all anti-union laws repeatedly passed by the conference since 2015.
Climate change / Green New Deal
Climate is not far behind housing and the economy as a popular topic, and in fact several economy motions have a lot on climate change. But most climate motions have been ruled out of order. The motion promoted by Labour for a Green New Deal putting public ownership at the centre of tackling climate change has also been ruled out on the grounds of covering more than one topic. The leadership obviously feels more comfortable with the kind of motion that calls on the next Labour government to ban disposable barbecues (no, really; for some reason the CLP is noted listed). The motion from Delyn CLP refers to "policies… outlined in the Green New Deal motion agreed by conference in 2021".
Public ownership
However motions calling for public ownership – including variously of water, Royal Mail, energy and rail – have been allowed in. This includes one from Barrow and Furness with some focus on climate. Six CLPs have submitted motions specifically on public ownership of energy (also referring to climate change); a gold star goes to Croydon South who call not just for a heavy tax on fossil fuel producers but heavy tax "pending public ownership" (ie of the fossil fuel companies specifically). Edinburgh North and Leith has a weak formulation saying Labour should "explore" public ownership of energy; similarly, Mansfield says public ownership should be "considered".
Ukraine
The motion from the National Union of Mineworkers condemning Russia's war, supporting the Ukrainian independence struggle and Ukraine's labour movement, is good and very important. Unfortunately the more right-wing motions from Derby South, Hyndburn, Streatham and Holborn and St Pancras CLPs, and the GMB, link support for Ukraine to support for the NATO military alliance and higher UK military spending. Conference should be able to vote on support for Ukraine without having to support NATO and increased military spending.
Slightly startlingly, nothing else has been submitted on international issues.
Migrants' rights / free movement
In addition to the very strong Labour Campaign for Free Movement-inspired motion from Cardiff North CLP, there are a number of worthwhile but much weaker motions on migrants' rights, for instance arguing to "review" No Recourse to Public Funds rather than scrap it.
A motion from Camberwell and Peckham on resisting immigration raids has been ruled out as an "organisational matter".
Housing
Labour housing campaigners have done well: there are lots of good motions on housing, with a range of strong demands – including ending "right to buy", funding the building of at least 100,000 council homes a year, funding retrofitting, private sector rent controls and many others.
NHS and social care
There are some decent motions on the NHS and social care. But, very concerningly – uncharacteristically honestly for the right? – the motion from Rossendale and Darwen CLP says: "Labour should reject further NHS privatisation, except where it can be shown to improve outcomes in, for example, highly specialised care or pharmaceutical or clinical research."
The police
There is nothing about curbing the police or holding them accountable (except a good motion about learning from the 1989 Hillsborough disaster); nothing about reforming criminal justice more widely; and hardly anything about defending and restoring the right to protest.
Brexit
Nothing about Brexit, despite the widespread unhappiness in the party with Starmer's de facto support for the Tories' hard Brexit.
Another mildly comical note: the Ukraine motion from Starmer's CLP, Holborn and St Pancras, rightly supports Ukraine joining the EU – while Starmer works hard to prevent any criticism of Brexit and won't even support the UK rejoining the Single Market…
Drugs
The motions from Clwyd West and Dundee City West CLPs on liberalising drugs laws and policies are also worth noting.